Our Process
Our approach iterates through 5 steps that can be executed to varying depths and levels of effort.  We can tune  the level of investment to match your timeframes and capabilities.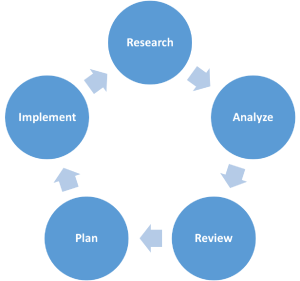 Research: We meet with you, your employees and your customers and listen to what they say about your company. We ask for the good, the bad and the ugly, as well as what they think could or should be done.  In addition, we assess your financials, organizational structure, processes and technologies in use.
Analyze: We take the research, synthesize feedback and identify common themes, strengths, weaknesses, opportunities and threats.
Review: We sit down with you— and then your executive team— to review and discuss the findings. During this process we work with you to define actions that can be taken and assign priorities to the actions.
Plan: Based on the priorities and actions we assemble a plan that includes dependencies, potential costs or resources and who needs to do what.
Implement: The hardest part. With a plan we coach you through implementing change. We support you by  holding you and your teams accountable and facilitating change within your organization.
The cycle of continuous improvement continues.  As part of the implementation we install feedback loops, connecting you with your employees and customers; moving your business further into the  black.